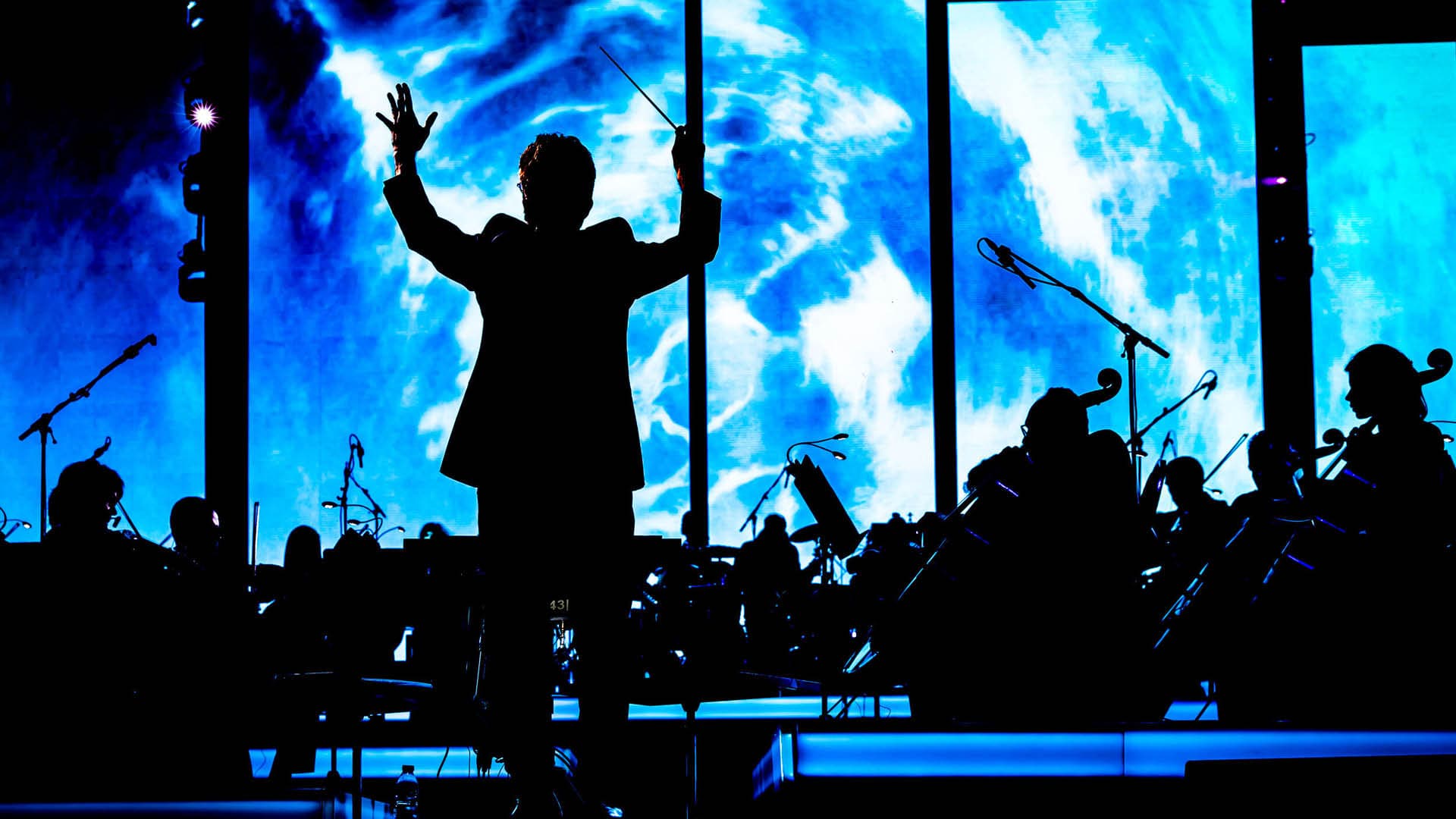 The World Of Hans Zimmer
A New Dimension
Tue 12.11.2024
The music of Hans Zimmer comes alive again at the Sports Palace. Conductor Gavin Greenaway and and a masterful symphony orchestra take the audience on a magical journey.
Powerful. Beautiful. Dramatic. Breathtaking. Strong. Touching. This is the music of two-time Academy Award® winner Hans Zimmer. In 2024, his successful show The World of Hans Zimmer will receive a new musical programme and thus advance to an international concert series at the same time. The new subtitle "A New Dimension" already hints at this: Hans Zimmer is arranging a brand-new selection from his tremendously diverse collection of scores for The World of Hans Zimmer – A New Dimension. The audience will be taken on a unique musical journey that will immerse them in completely new dimensions.
The concert tour's precursor The World of Hans Zimmer – A Symphonic Celebration first wowed audiences in Germany in 2018 and has since been on a triumphal march around the world. Hans Zimmer himself will not appear live on stage in The World of Hans Zimmer – A New Dimension but will function as the show's curator and musical director. He says: "My aspiration with this new show is to preserve the culture of the orchestra and allow audiences to rediscover the unique facets of orchestral music. There are many background stories I would love to tell and long-time companions and friends I would like to introduce."
The magic of Hans Zimmer's works will continue to conjure live for audiences in 2024, along with some of the world's most outstanding and renowned soloists and a masterful symphony orchestra.
With The World of Hans Zimmer, the "Hollywood Rebel" (according to the BBC) has created a glamorous, lively, exciting live experience of a very special kind.
Hans Zimmer's extraordinary melodies and modern compositions captivate a huge worldwide fan base across generations. He has already energized countless international cinema blockbusters including "Dune," "James Bond – No Time to Die," "The Lion King," "Gladiator," "Pirates of the Caribbean," "The Dark Knight" trilogy, "Interstellar," "Last Samurai," and "Top Gun: Maverick," among others.
Tickets
Official tickets

Secure payment
Tue 12.11.2024•Sportpaleis Antwerpen
At the box office, you pay an extra 2 euros service charge.
Organizer: Greenhouse Talent BV
Fan Experience
Package Gold
Best seats at the concert (first 15 rows in front of the stage)

Special VIP entrance

VIP pass

Lanyard

Tour Program